New Steak boxes for 2023!
---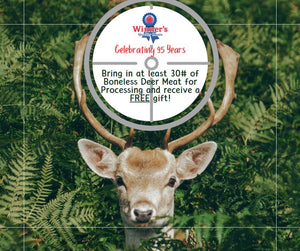 Vertically Integrated
We raise our own Black and White face Angus Steers that are pasture
raised on the hills in Virginia. They come right off the grazing lands where
they have only eaten grass, then placed into our feed lot in Greenville, Ohio. They are then fed with corn and silage that we grow and harvest on our farmland in Greenville, Ohio. Our DVM does not administer antibiotics unless they become sick and it's needed to survive or to keep the rest of the herd healthy. If this were to happen, we keep great records of which beef was affected and go past the medications withdraw period to ensure there is zero antibiotic residue left in the animal. Once
finished, we bring them to our Federally Inspected Processing Plant in Osgood, Ohio
or to our State-Inspected plant in Greenville, Ohio to be processed to your specifications.
We know exactly what our cattle are eating which is why
we can guarantee you a quality product on your family's table! Our prices include
the beef, cut, wrapped, and froze in the price per lb. We sell whole, halves,
split halves and/or quarters of beef. We also sell Whole and halves of hogs daily. Beef halves usually weigh around 350-375#. We have the ability to control the process from
start to finish, which can give you peace of mind knowing you are getting safe
and humanly raised meat with no hormones, antibiotics, or additives for a true farm to table experience. We know exactly what our cattle are eating which is why we
can guarantee you a quality product on your family's table!
Call to Order : Osgood- 419-582-4321 Greenville- 937-548-7513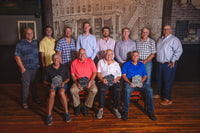 Third & Fourth Generation with Retirees
Front left – Steve,
Mike, Jay, Terry
Back left: Rob, Troy,
Travis, Jesse, Will, Brian, Alan, Ted
OUR STORY
Established in 1928, Robert Winner's grand and great grand sons have continued the work of producing quality meat products for nearly a century. Our founder, Robert began processing beef and pork in his barn for neighbors and friends. The four generations of Winners have followed Robert's passion continuing to strive to maintain a trust with their customers and to always produce a quality product. We're often asked about the longevity of our success and Winner's President Brian Winner believes it's as simple and timeless as our approach to producing fresh, quality meat. "You have to work long, hard and have dedication to the family business; that's what it takes to succeed. We work right beside our employees, whether it is cutting meat or scraping the floor, if that's what needs to be done." Our philosophy of hard-work extends from the harvest room floor, to the fields, the barns and to the corner office, with all employees expected to do their part regardless of their last name.
Brian K. Winner, President
Robert Winner's Family Picture