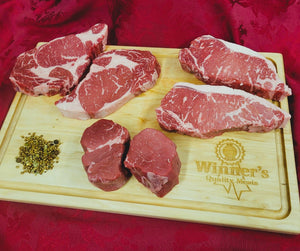 Steak Sampler
Regular price $135.79 Sale
Spread the joy this holiday season with a gift that will not be re-gifted! Our steak sampler box will put a smile on everyone including the Holiday Grinch. Nothing is better than a steak....but six more steaks. Each steak is individually vacuum sealed for freshness protection, easy of thawing, and ease of picking how many to cook! This sampler is packed in holiday box that can be gifted with no work involved.
Steak Sampler box:
2- 8oz* trimmed Filet Mignon
2- 12oz* New York Strip
2- 12oz* Boneless Ribeye Steaks
* Approximate ounces as each steak is hand-cut!