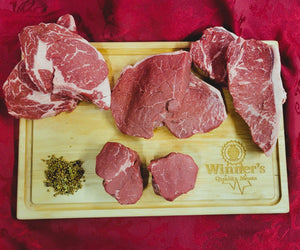 Connoisseur's Steak Box
Regular price $155.00 Sale
A gift sure to please anyone that knows steaks! This box is the perfect gift that includes an assortment of mouth watering, well marbled, choice or higher graded beef. Each steak is Individually vacuum sealed to preserve freshness and makes it easy to thaw without the mess. Each Box is packaged in a attractive gift box sure to put a smile on anyone this holiday season! Over 5# of aged steaks to please all taste buds.
Steak Connoisseurs Box:
2- 8oz* Trimmed Filet Mignon
2-12oz* Top Sirloin
2- 12oz* Boneless New York Strip 
2- 12oz* Boneless Well Marbled Ribeye
* Approximate ounces as each steak is hand-cut!